Unilever Tseriotis Cyprus, ALPHAMEGA Hypermarkets, and PETROLINA channel their energies into a new initiative on fuel
03 March 2023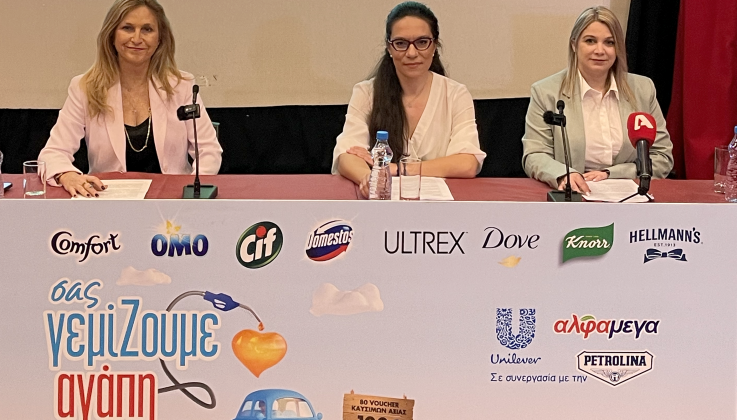 At a press conference held on March 1st, Unilever Tseriotis Cyprus, ALPHAMEGA Hypermarkets, and PETROLINA announced their new initiative, which verbalises (through its engaging title "Fuelled by love") the purpose of the newly-formed tripartite alliance: to actively support the public with free fuel.
During the press conference, the business partners took a dive into the details and gave the "how-to" of the activity: ALPHAMEGA Family Card holders who purchase UNILEVER products from the chain's stores within specific dates, enter automatically the prize draw and claim one of 320 vouchers, each worth €100. The vouchers can be exchanged for fuel from any of Petrolina, Agip, and Eni gas stations.
The initiative will come out in four waves, the first of which has begun as of March 02 and will continue until March 15, 2023. According to Ms Tataridou, Head of Shopper Marketing of Unilever Tseriotis Cyprus, the second, third and fourth wave will begin in July, September and November respectively. Throughout the year, 320 vouchers worth a total of €32,000 will be distributed to the lucky winners, in an effort to provide ongoing support to consumers.
In her statement, Ms Natasa Constantinidou, Chief Communications and CSR Officer of ALPHAMEGA Hypermarkets expressed her satisfaction for this new collaboration and reiterated the organization's ongoing commitment to support the local society. In her speech, Ms Georgia Lefkariti, Executive Director of Petrolina (Holdings) Public Ltd., stated Petrolina's immediate positive response to this invitation, emphasizing that "the idea of support and collective progress has always been at the core of our vision, which focuses on addressing the present-day needs of Cypriot society".
The press conference, which took place at the University of Nicosia, was attended by local media representatives, business partners and colleagues who enthusiastically embraced the concept of the initiative.