Petrolina sponsors "Petrolina 10km Energy Race" at the 15th OPAP Limassol Marathon
In support of the Karaiskakio Foundation
10 March 2023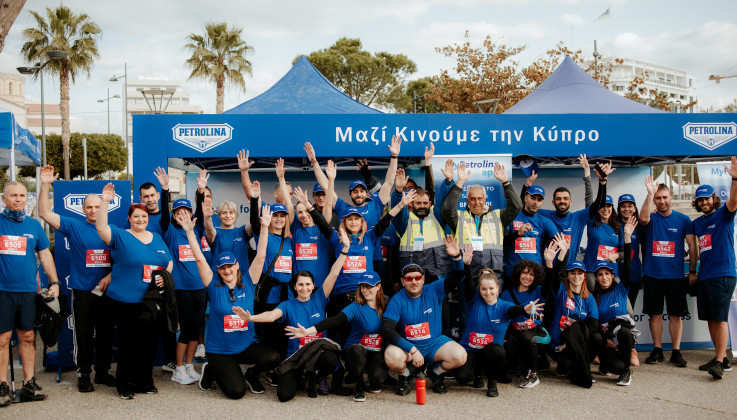 True to its long-term commitment to support major sporting events in Cyprus, Petrolina sponsors the 15th OPAP Limassol Marathon 2023. The event will take place over two days on the 18th and 19th of March 2023, with the aim of raising funds for the Karaiskakio Foundation.
Petrolina has established a strong connection with the Limassol Marathon and is the Race Sponsor of the Petrolina 10km Energy Race. The race is scheduled for Sunday, March 19 and will start at 08:00 from the Limassol Marina. It is a popular route in the OPAP Limassol Marathon, attracting young runners who are eager to push their limits and test their endurance.
The 15th OPAP Limassol Marathon is one of the most important sporting events in the island and attracts thousands of runners from Cyprus and abroad every year. It includes a versatile racing program consisting of six different routes of various distances and performance lever.
The Petrolina volunteer team, known as the Petrolina Energy Team, which is made up of company employees and their families, will also participate in the 5km corporate race which supports charitable causes. The proceeds from the OPAP Limassol Marathon will be donated to the Karaiskakio Foundation, which offers expert scientific assistance to those suffering from haematological malignancies and maintains a registry of bone marrow donors.
Inspired by the ideals and values of sports and volunteerism, Petrolina has always supported major events over time that not only take centre stage in Cyprus' cultural and sporting scene, but also promote Cyprus internationally. Furthermore, sports is one of the main pillars of the company's Corporate Social Responsibility strategy, as it promotes values such as integrity, teamwork, and discipline.
If you are interested in taking part in the 15th OPAP Limassol Marathon, follow this link: www.limassolmarathon.com