Petrolina Energy Team at the 14th OPAP Limassol Marathon GSO 2022
Thousands of runners in support of the Karaiskakio Foundation and other charities
23 March 2022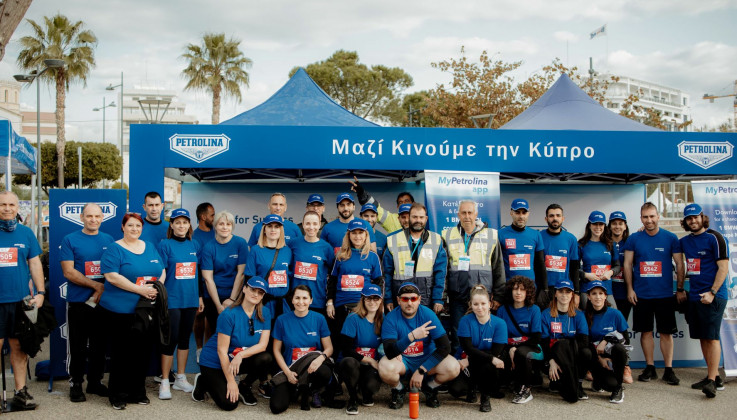 Petrolina once again was a major contributor to the successful organisation of the 14th OPAP Limassol Marathon GSO 2022, which was held on the weekend of 19-20 March 2022, following a two-year hiatus due to the Covid pandemic.
As one of the most active partners of the OPAP Limassol Marathon GSO, Petrolina supported this year's event by both participating and sponsoring the "Petrolina 10km Energy Race", which was held on Sunday 20 March, with thousands of runners taking part.
The high point of Petrolina's presence this year was undoubtedly the mass participation of its staff sports team, the Petrolina Energy Team, which ran to raise funds for the Karaiskakio Foundation.
One of the most prestigious, internationally acknowledged sporting events on the island, the 14th OPAP Limassol Marathon GSO attracted more than 10.000 runners, from Cyprus and from abroad, and raised more than €50.000 in support of the Karaiskakio Foundation and other charities. This year's marathon included a full schedule, comprising six races catering to runners of all ages and athletic abilities.
Inspired by the ideals and values of sports and volunteerism, Petrolina has always supported major events, which not only raise the bar for Cyprus' culture and athletics, but also promote Cyprus internationally. Sports are one of the main pillars of the company's Corporate Social Responsibility strategy, through which it promotes values like fair play, teamwork and discipline.
Video: Petrolina Energy Team at OPAP Limassol Marathon GSO 2022