Petrolina donates state-of the art drone to the Police
An addition that significantly upgrades the modern equipment of the Cyprus Police
17 February 2022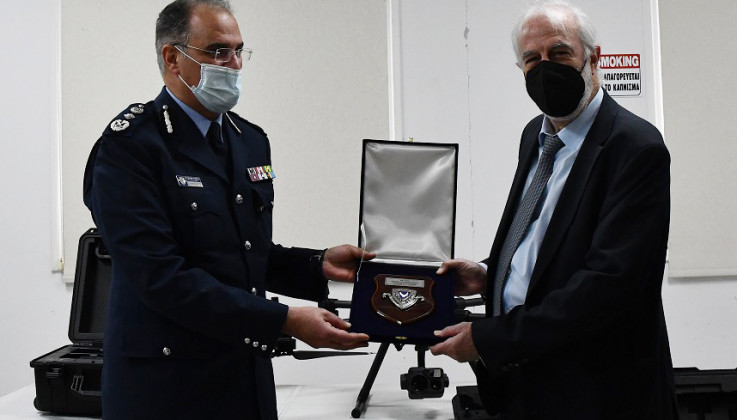 A state-of-the-art, unmanned aircraft (drone) was added to the technological equipment of the Cyprus Police a few days ago. The drone, a quadcopter DJI Matrice RTK 300, was donated to the Police by Cypriot petroleum company Petrolina.
This state-of-the-art drone was presented to the Chief of Police, Mr Stelios Papatheodorou, by the CEO of Petrolina, Mr Dinos Lefkaritis, during a ceremony held on 9 February 2022, at the Technological Development Department of the Police Headquarters.
The drone, which features a range of more than 6km and can reach an altitude of 500m, has multiple cameras and can be used in various police missions and operations, including firefighting, policing, locating missing persons etc.
In remarks after receiving the drone, the Chief of Police thanked Mr Lefkaritis, stressing that this addition significantly upgrades the Police force's equipment. He said the new drone will be used to prevent and combat crime, as well as to strengthen the force's social action. On his part, Mr Dinos Lefkaritis noted that it is with great pleasure and satisfaction that Petrolina has proceeded with this donation, with a view to support the work of the Cyprus Police. Moreover, the Company's CEO pointed out that Petrolina always strives to be by the side of Cypriot society, through the actions of its Corporate Social Responsibility programme.