Dynamic presence of the Petrolina Energy Team at the 15th OPAP Limassol Marathon 2023
Thousands of runners came together to show their support for the Karaiskakio Foundation and other charitable causes.
20 March 2023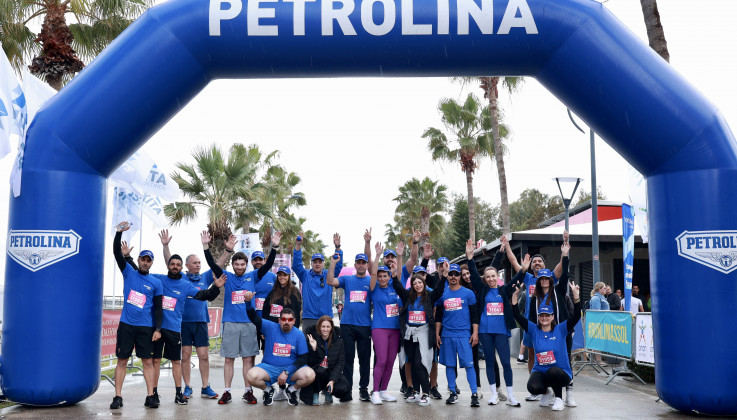 Petrolina was once again a major sponsor of the successful organisation of the 15th OPAP Limassol Marathon 2023. The race was held on the weekend of 18th-19th March 2023, and was attended by a record of 15,000 runners from Cyprus and abroad.
As a significant supporter of the OPAP Limassol Marathon, Petrolina sponsored this year's "Petrolina 10 Km Energy Race" on Sunday, 19to March, attracting thousands of participants.
Petrolina's Executive Chairman, Mr. Costakis Lefkaritis, congratulated all those who took part and even more so the organisers of the event, stating: "The Board of Petrolina takes great pride in annually supporting the Limassol Marathon, not only for its celebration of health and sports, but also for its support of the noble cause of the Karaiskakio Foundation".
One of this year's highlights was the Petrolina Energy team, made up of company staff, who took part in the Primetel 5Km race on Saturday, March 18th. Despite the rainy weather, the team remained enthusiastic during the event and successfully raised funds for the Karaiskakio Foundation.
During the same day, the Petrolina Energy Concert took place at the Sponsor Village, where participants and onlookers were able to enjoy music by the band Private Garden.
Inspired by the ideals and values of sports and volunteerism, Petrolina has always supported major events, which not only raise the bar for Cyprus' culture and athletics, but also promote Cyprus internationally. Sports are one of the main pillars of the company's Corporate Social Responsibility strategy, through which it promotes values like fair play, teamwork, and discipline.