Petrolina supports "One Dream One Wish" through the "Spreading Happiness" initiative
Children designed… happiness on t-shirts
06 June 2022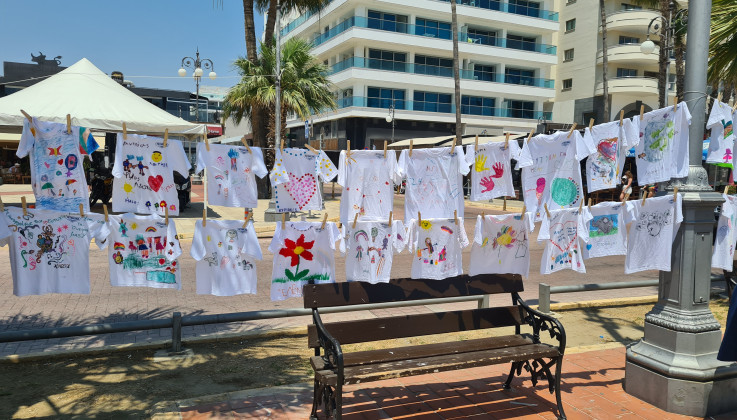 As part of its multifaceted Corporate Social Responsibility programme, Petrolina continues to sponsor activities that put smiles on children's faces by once again supporting the "One Dream One Wish" Association, through its "Spreading Happiness" initiative.
The initiative, which was held with great success in Limassol, Paphos and Nicosia, this timetook place in Larnaka, on Sunday, 5 June 2022, at the Foinikoudes promenade.
Petrolina was the only company that actively participated in this initiative, both as a sponsor, as well as through the active involvement of its young volunteers team, the Petrolina Kids Community, which consists mainly of the children of Petrolina staff and friends. The young volunteers took part in the initiative with joy and enthusiasm, wholeheartedly embracing the effort to support children with cancer.
The children painted on a white T-shirt what the word happiness means to them. This special "laundry" was then hung up on clotheslines, thus making a creative statement about the true meaning of happiness. The children also made donations in support of the "One Dream One Wish" Association, with money they had raised through their own volunteer initiatives, putting into practice the concepts of giving and volunteerism in the best way possible.
The Executive Director of Petrolina (Holdings) Public Ltd, Georgia Lefkariti, said that "Petrolina's sponsorship and active participation in the 'Spreading Happiness' initiative falls within the framework of the Company's broader long-term support of the One Dream One Wish Association through various actions every year. We constantly strive to support and actively respond to the needs of the Cypriot society ".
It is noted that last March, Petrolina sponsored the annual "Love Route" of the "One Dream One Wish" Association for the 14th time, while in December 2021, the Company donated €10,000 to cover both the needs of children with cancer as well as sponsorships for students who are still under observation and / or receiving treatment.