Petrolina, sponsor of Pavlos Kontides for the next three years
Always a strong supporter of sport ideals
19 June 2018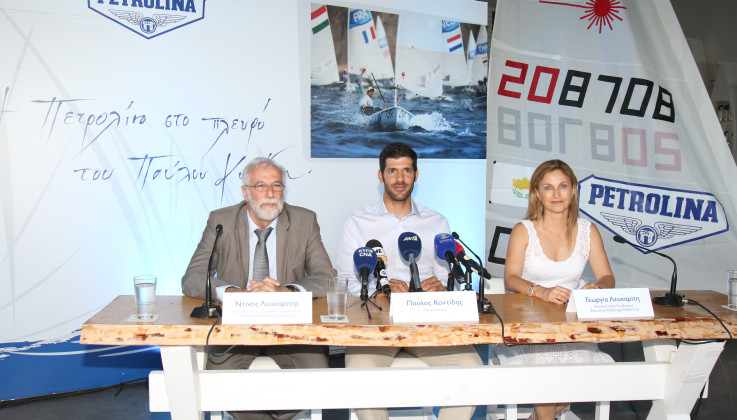 Cypriot petroleum company Petrolina announced its three-year cooperation with Cypriot Olympic sailing champion Pavlos Kontides, at a special ceremony held in Larnaca on Tuesday, 19 June 2018.
As part of its longstanding practice of supporting Sports, Petrolina will henceforth stand in support of Pavlos Kontides, who reflects the values that derive from sport, such as hard work, discipline, persistence and fair play. Pavlos Kontides is the only athlete to secure an Olympic medal for Cyprus, winning silver medal in the 2012 Olympic Games in London. Last spring, Pavlos Kontides won first place at the 2018 European Championships in Laser, which took place in France, while in September 2017 he was crowned world champion.
Petrolina's Executive Director, Georgia Lefkariti said during the event: "The Company's decision to stand by Pavlos Kontides is in line with Petrolina's longstanding philosophy as regards its relationship with the Cypriot society; to respect and support all our initiatives with sincerity and to contribute to the qualitative upgrade of society and sport."
In addition, she stressed that "the principles and values that characterise the overall course of Pavlos Kontides in sport are in line with the principles and values of Petrolina: hard work, sincerity, dedication and respect". Mrs Lefkariti added that over the next three years, Pavlos Kontides will enhance the Company's corporate social work as a Community Leader, with a plan of actions of a broader social character, passing on the values and principles that have governed his course.
The Company's Executive Chief Officer, Dinos Lefkaritis, welcomed Pavlos Kontides to the large Petrolina family, stressing how the Company could not be absent from the top Cypriot athlete's side.
On his part, the Olympic medallist thanked Petrolina and the Lefkaritis family for their trust and support "in the effort to raise Cyprus even higher". He added, "It is a great honour and at the same time I am filled with responsibility by the fact that one of the country's biggest companies, which has linked its name with the course and development of the Republic of Cyprus itself, has decided to cooperate with me. From this day onwards, with the Petrolina logo on the yacht's sails, we will travel to new seas, facing new challenges and aiming for big accomplishments, the most important being the 2020 Olympic Games."