Petrolina: Collect for Spiegelau glasses, for every moment, for every season
New promotion at Petrolina, Agip and Eni stations
14 December 2020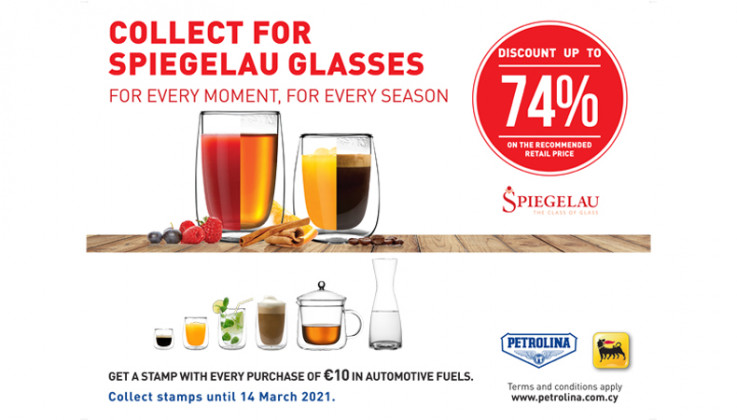 Petrolina's new promotional campaign, "Spiegelau glasses for every moment and every season", offers the opportunity to all of its customers to purchase one or more Spiegelau products, with a discount of up to 74% over recommended retail price.
The company's short-term loyalty programme (Continuity Progam) will last 15 weeks. Customers will be given a stamp for every purchase of P-EnergyMax fuel worth of €10 at Petrolina, Agip and Eni stations. By filling the special flyer given out at the stations with 8 stamps, customers will be able to redeem it and purchase a Spiegelau product of their choice with a discount of up to 74% over the recommended retail price.
The collection consists of six Spiegelau products. Specifically, it includes 4 different types of glasses and 1 teapot made of double-walled glass and are suitable for cold or hot beverages as well as 1 carafe. Stamps can be collected until 14 March 2021, while completed leaflets can be redeemed until 20 March 2021.
Founded in 1521, Spiegelau uses cutting-edge technology in the glass manufacturing process, for the creation of high-quality glasses and other glassware products, perfectly suited to today's way of life.
For more information and the terms and conditions, visit www.petrolina.com.cy