Award for Petrolina and its human-centric actions
Petrolina was awarded at the 2021 Cyprus Retail Excellence Awards, in the category of Dynamic Action in Corporate Social Responsibility.
25 July 2022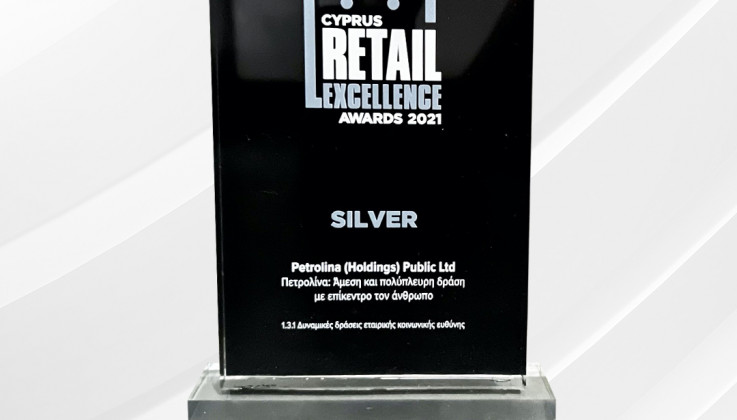 On the 14th of July, Petrolina received a Silver Award recognising its multifaceted CSR actions at the Cyprus Retail Excellence Awards 2021.
Mrs Georgia Lefkariti, Executive Director of Petrolina, stated that the award confirms once again that 'Together we move Cyprus' is not simply a slogan, but a "daily reality that propels the actions of the company towards developing in business, as well as in the field of corporate sustainability and responsibility."
Petrolina undertakes a variety of community-centric actions that focus on society, health, sports, and environmental protection. With the creation of the "Petrolina Community", a volunteer group made up of employees, service station owners and their families, Petrolina actively promotes social solidarity by participating in various initiatives, donating their time and energy to worthy causes. Additionally, Petrolina consistently supports organisations with a recognisable impact on our community, including "One Dream, One Wish", Telethon and Europa Donna. Also, as a member of the SupportCY network, Petrolina supports a range of actions such as Road Safety, as well as campaigns for the Cyprus Anti-Cancer Society. Furthermore, in 1998 Petrolina established a voluntary blood donation group as a gift of life.
In the realm of sports, aside from competing in the Cyprus Rally Championship with the Petrolina Racing Team, Petrolina sponsors Olympian Pavlos Kontides, as well as other sports clubs, federations, academies, and large sporting events.
In the environmental sector, Petrolina adheres to measures of environmental responsibility, invests in renewable sources of energy through the installation of solar panels at its stations, and supports organisations like GreenDot and Let's Do It Cyprus. The environmental protection systems at the Petrolina terminal in Vassiliko also adhere to the highest environmental protection standards. Furthermore, in the last year, Petrolina provided free fuel to the aircrafts fighting devastating fires across our island.