Enjoy cooking with the Boretti collection
A new promotional activity at Petrolina, Agip & Eni stations
05 December 2022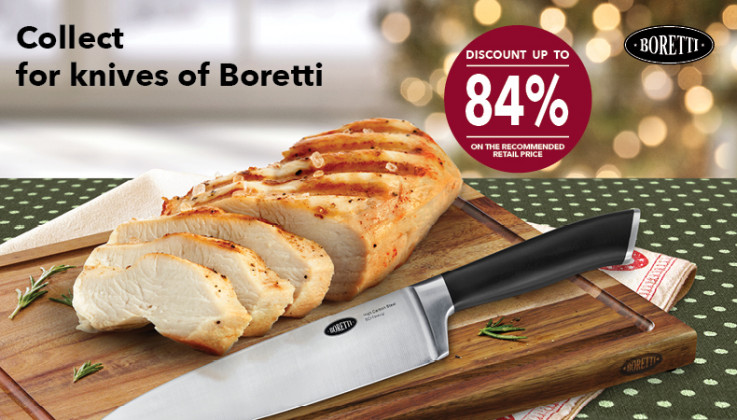 Petrolina's new promotional campaign, "Enjoy cooking with Boretti knives!", offers to all customers from the 6th of December 2022 the opportunity to purchase one or more Boretti products, with a discount of up to 84% over their recommended retail price.
Petrolina rewards all automotive fuel purchases that customers make at Petrolina, Agip and Eni stations. During the promotional period, customers can collect physical stamps at the service stations, or digital stamps through MyPetrolina app.
For every €10 transaction of P-EnergyMax automotive fuels, each customer can collect 1 stamp. When they collect 8 stamps, they can purchase a product from the Boretti collection at a discount of up to 84% on their recommended retail price.
To collect electronic stamps through MyPetrolina app, customers will have to agree to the terms of the application. Moreover, through MyPetrolina app, customers can buy exclusively 3 BBQ products at a discounted price.
Customers can collect stamps from the 5th of December 2022 until the 20th of February 2023. Redemption is valid until the 3rd of March 2023.
Boretti is synonymous with high-end products, Italian design and the love of the simple Italian Culinary Lifestyle. Boretti is the expert of adding an Italian touch to every dish through its beautiful, high-quality products. Boretti's aim is to make each kitchen lover's culinary experience even more enjoyable, more appealing and simpler, through the creation of expert products infused with exceptional Italian design.